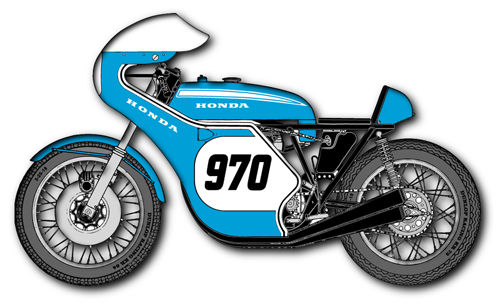 As a direct result of, and to support the 1970 race effort, Honda produced a limited number of CB750 race kits, and made them available to their dealer network. The race parts kit contained over 150 special parts, including everything from special racing pistons, rings, valves, crankshaft, camshaft, pipes, forks, brakes, gears, rims, spokes, and sprockets, down to special gauges, carburetors, and a generator.
The race parts in the kits were designated in Honda's parts locator system, by the numbers "970". The net result of installing the race kit was to raise the engines output 23 horsepower to 90 horsepower, and the redline to an angry 10,500!
Unfortunately, due to the limited number of kits manufactured, and a subsequent recall and destruction of many of these early parts by Honda of North America, assembling a kit CB750 Racing Type today is an extremely daunting task.